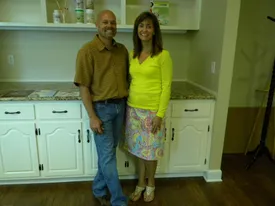 Dr. Chris Fischer and Dr. Melissa Fischer met at Life Chiropractic College, graduated in June of 1995, and have been married for over 26 years. They initially practiced in West Virginia for 2 years, and have been in Dothan, Alabama for over 25 years.
Dr. Chris is more of a "hands-on" type of chiropractor, using Diversified technique, Thompson Drop, Gonstead, and uses some Pierce Technique, and Activator.
Dr. Melissa uses primarily Pierce Technique, which she is certified in, and also utilizes Thompson Drop, and Activator techniques.
We encourage our patients to see both doctors interchangeably, although have no problem if a patient has a preference of doctor or technique.